Butchery Workshop: Break down a goat with Dave the Butcher
Scroll down to purchase tickets...

UKSF's man-o-meat,
Dave the Butcher
, will kick off CUESA's Goat Festival with this annual favorite: goat butchery! 
Dave will lead the class in breaking down a whole goat in this hands-on butchery class appropriate for beginners, as well as those wishing to hone their knife skills.  Participants will learn about the benefits of goat meat, a lean red meat that's both healthy and easy on the environment.  A brief crash course in goat anatomy is included.
The class will then get to work, butchering various cuts of meat until the entire goat has been broken down. Students take home a boning knife, the meat they butcher, and various suggestions for preparing their specific cuts.
This class will be limited to 16 participants to ensure that everyone receives personalized instruction.
Date & Time: Wednesday, April 11, 5:30-7:30 p.m.
Location: CUESA Dacor Teaching Kitchen, Ferry Plaza, San Francisco
Cost: $95**

---
Instructor Bio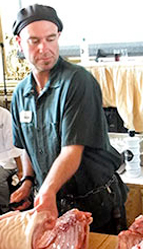 David Budworth has been a butcher in the San Francisco bay area since 1989. He learned his trade over the years at traditional butcher shops such as Ver Brugge Foods in Oakland and Shoppers Corner in Santa Cruz. For the last 2 years David has been the Manager of Marina Meats. He's also been the house butcher at Avedanos Holly Park Market. In his spare time he teaches butchery classes, as well as putting on butchery events / demos around the Bay Area. Dave is a big proponent of responsible, humane, and sustainable animal husbandry.
David is one of UKSF's first (and favorite!) instructors.  He has worked with UKSF since 2009, schooling participants in butchery (including chicken, lamb, and goat) as well as sausage making.
---
Cancellation Policy:
Refunds are available if notice is given 48 hours prior to the event. There are no refunds after that point, but you're welcome to pick up any materials and supplies handed out in class. Please be sure to email registration@urbankitchensf.org *before* class to ensure that your items are held for you. Without advanced notice, we may not be able to save everything. Please make sure to pick it up by the Saturday following the class as materials tend to be perishable.
**Sliding scale pricing available.  Email registration@urbankitchensf.org for details.