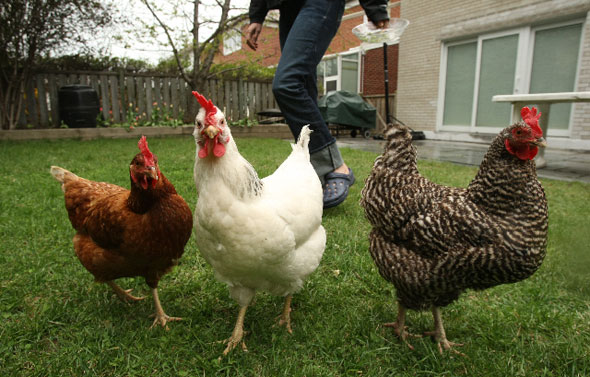 This unique, two-part UKSF class taught by Nicole Kramer, urban homesteader and owner of FARMcurious, will give participants both a hands on and practical introduction to everything they'll need to know to make that leap.

Part I: Hen party in the Mission!
Participants will meet a live urban chicken, sample fresh eggs (v. store-bought eggs), and examine the equipment used in raising chickens. Nicole will divulge all the tricks and techniques to successfully keeping chickens in the city, including choosing breeds and deciphering city codes. Participants will also leave with a stylish FARMcurious ceramic egg tray (perfect for storing eggs, be they purchased or backyard fresh), as well as a packet of useful materials consisting of the info covered in class and resources for future use.
Date & Time: Thursday, February 10, 6:00 - 8:00 p.m.
Location: Audre Lorde Room, Women's Building
Cost: $41*
---
Part II: Field trip to the farm... (free for participants)

In an optional site visit to Nicole's farm in Oakland, visitors will view urban farming in practice, examining Nicole's coop, her feeding and watering set-up, and the very subjects of her workshop: her chickens!
Date & Time: Sunday, February 13, 1:00 to 3:00 p.m.
Location: FARMcurious headquarters, Oakland (exact address will be disclosed to participants)
Cost: complimentary for participants
---
Instructor Bio
Nicole Kramer is an Oakland resident and urban farmer.  In May of 2010 Nicole started her own company, FARMcurious, an organization dedicated to educating, inspiring and equpping urban homesteaders in the Bay Area.  Nicole teaches urban homesteading classes and offers DIY food demonstration at the homes of urbanites.  Each demonstration includes an explanation of why a connection with our food is important, instruction on how to rekindle that connection and innovative products to help get the group started growing and processing their own food at home in an uban environment. 
Nicole has been growing vegetables in an urban setting for three years and is constantantly discovering new ways to grow more food in compact spaces. Having kept chickens as a chile, she now tends a small flock in her backyard in Oakland.  As part of her urban homesteading lifestyle, Nicole maintains a full time job with a large NYC media company, runs FARMcurious on the side, tends to the garden and various animals and also manages to grow much of her family's own produce, craft her own cheese, can seasonal produce and somehow blog about it all.
*Need-based sliding scale pricing available.  Email registration@urbankitchensf.org for details.