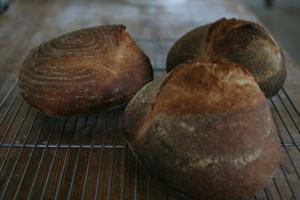 Learn the secrets of a San Francisco classic - sourdough bread! Danny Gabriner of Sour Flour will lead participants in mixing and developing dough by hand. 
You'll learn how to scale ingredients and work with a variety of dough hydrations while honing your kneading, folding, and shaping technique under Danny's ever-watchful eye.  Everyone will take home a basket with rising dough, along with the recipes and secret tips to bake it - and many future loaves! - from home.

Note: This class is limited to 16 participants to provide for more in-depth instruction on dough development technique.
Date & Time: Thursday, February 3, 5:30 - 7:30 p.m.
Location: La Victoria Bakery & Kitchen, 2937 24th Street @ Alabama St., San Francisco, CA 94110
Cost: $54*
---
Instructor Bio
Danny Gabriner has been baking and experimenting with bread for the past two years.  As Sour Flour's first SF Baker, he leads the Bread Education Program.  Bakers are taught how to bake by learning about controlling the activity of the fermenting starter, as well as the hand skills to shape the structure of dough.
Sour Flour makes hand made, naturally fermented bread, and trains home and professional bakers.