Past Classes & Events
Subscribe to posts
Once again the Urban Kitchen SF's annual pickling party with those masters of fermentation, Happy Girl Kitchen was a blast! We joined  Todd Champagne in learning two types of pickling - canned vinegar pickles and live culture fermentation - using two kinds of veggies,
 peppers and cucumbers!
It was perfect timing for CUESA's Pepper Celebration, with participants having gotten their hands on experience in these classic methods of pickling, with a spicy twist. Everyone went home with jars of each kind of pickle, as well as a starter kit containing spices and recipes to recreate the magic at home.
Making the most of the summer, it was time to up our stone fruit game! Urban Kitchen SF joined CUESA's Stone Fruit celebration by partnering with Shakirah Simley, one of Zagat's "30 under 30" and Canner-in-Residence at Bi-Rite, for a preserving class that's just peachy.
Shakirah led the class in creating two perfect additions to your summer pantry: Peach Lavender Preser
ve and Ginger Peach Soda. First, 
stu
dents learned the secret of 
incredible 
peach preserve without pectin. Then, students gave bubbles a shot by creating their mix for homemade soda. This class also featured amazing peaches from Shakirah's and CUESA's favorite local farmers. Participants left with a jar of peach conserve, a bottle of peach mix for soda along with recipes and a starter kit consisting of peaches, herbs and yeast to practice at home.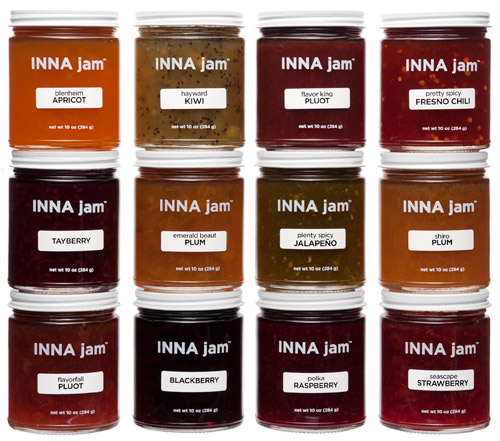 Summer is here, and we've learned how to make the most of all the delicious fruits and herbs at the farmers market. In this hands-on workshop, we started off by making a classic Seascape strawberry jam using INNA jam maker Dafna Kory's perfected technique. To add a twist, we then experimented by adding different fresh summer herbs like rosemary with thyme and lemon verbena with spearmint in micro-batches of jam. We tasted each of the different, delicious strawberry-herb variations, shared our reactions, and were off to make our own individual culinary experiments!
Each participant took home a jar of their own freshly made jam and a jamming starter kit, including a separate jar, a muslin bag for woody herbs, and pectin. Versed in the fundamentals of jamming, we're now ready to design our own signature flavors and preserve our favorite summer fruits to enjoy year-round!

Buying whole fish and filleting it yourself ensures a fresher product at a cheaper price. With the skills learned in the hands-on UKSF class, Neil Davidson, chef of Mission Gastroclub and WhipOut! Food Truck, participants took to the knife and learned to break down a fish like a pro! Neil demonstrated different ways fish can be fabricated, using both salmon and black cod. He also showed us how to preserve the fish (in true UKSF style) by smoking fillets as well as poaching some fillets in olive oil. 
Fish fabrication, for us new to the term, is the process of taking a fish fresh from the water and breaking it down into easily usable fillets. Neil took us through the process of gutting, cleaning, scaling, trimming, and skinning the fish so that it can be preserved in the most efficient way possible. After the demonstration, each student put this new knowledge to work by butchering a whole black cod themselves. 
Maria Finn, author of The Whole Fish: How Adventurous Eating of Seafood Can Make You Healthier, Sexier and Help Save the Ocean, also joined us to speak about about sustainable fishing.  Maria has been a commercial fisherwoman and is now a writer living on a houseboat in Sausalito. 
Participants left with their fillets and recipes to cook or preserve them at home.
San Francisco Homebrewers Guild
, in this introductory workshop cohosted by Urban Kitchen SF and 
CUESA
. The class will covered brewing basics, including proper sanitation practices, adding malt extract, pitching yeast, and finally bottling beer. Participants tried samples of different styles of beer, as well as the beer at various stages. A representative from 
San Francisco Brewcraft
 also discussed buying ingredients and equipment. Armed with this knowledge participants each took home a $40 gift certificate to San Francisco Brewcraft and a coupon for 10% off beer-making supplies, so they could start brewing at home.
UKSF's man-o-meat, 
Dave the Butcher
, helped mark CUESA's Goat Festival with one of UKSF's annual favorites: goat butchery!
Dave lead the class in breaking down a whole goat in this hands-on butchery class appropriate for beginners, as well as those wishing to hone their knife skills. The class got to work on butchering various cuts of meat until the entire goat had been broken down. Participants learned about the benefits of goat meat, a lean red meat that's both healthy and easy on the environment, and got various suggestions on how to prepare specific cuts they took home.
April means goat milk season, and why not turn some of that delicious milk into crumbly, creamy goat cheese? Participants learned the world's easiest recipe for making chevre at this hands-on class with 
The San Francisco Milk Maid
. They found out how to season chevre with a variety of seasonings, and how to make delicious ripened cheeses with soft, fuzzy exteriors by adding mold spores to milk. All participants left class with a homemade cheese and ingredients and recipes to make more chevre at home.
Nicole Kramer Easterday, urban homesteader and owner of FARMcurious divulged all the tricks and techniques to successfully keeping chickens in the city.  From deciphering municipal codes and keeping your neighbors happy to locating free sources of food, the class covered all you would need to know about keeping backyard chickens.
She talked about the perks and downfalls of owning chickens, discussed how to select appropriate breeds, and described the process of feeding, housing and caring for chickens throughout the different stages of their lives. We also met one of Nicole's own adorable chickens, and taste tested some farm fresh eggs. Some participants even visited Nicole's urban farm the day after the workshop.
We are now officially loco for homemade latin cheeses, thanks to Part 2 of our cheese series with
The Milk Maid
and
CUESA
. Louella Hill showed us how these Latin-style cheeses are known for their creamy freshness and beautiful simplicity, and that they truly let the milk sing. We fried up queso blanco for our taste test, while we heated fresh Saint Benoit milk to make our own queso fresco. We also devoured tacos made with fresh corn tortillas and filled with cheese, avocado, cilantro and loroco. These cheeses are often made at home or in micro batches throughout Central and South America, and now we are all able to make them in our own homes! The participants left with a take-home kit with lipase enzymes, rennet, and recipes.
Louella Hill, aka The San Francisco Milk Maid, teamed up again with UKSF and CUESA to bring back one of our most popular classes - Make Your Own Mozzarella and Burrata. Burrata is a cream-filled mozzarella you'll find in restaurants and specialty stores all over town. Participants learned the technique of stretching mozzarella, and also got creative with the cream filling. They left with their homemade cheese, as well as ingredients and tips on how to recreate the experience at home.